2018 Golf Clinics

Junior Clinics

Saturday's
10:00 - 11:00 AM
$15 per session

May 5, 12, 19
June 2, 9, 23
July 7, 28
August 4, 18

Adult Clinics

Thursday's
6:00 - 7:00 PM
$20 per session

April 26
May 3, 17, 31
June 14, 28
July 19
August 2, 16

Maximum # of students per clinic = 8

You may sign up for the clinic sessions individually or multiple sessions. Pre-payment is required to reserve your spot in all Junior and Adult clinics. Make-ups can be made on any day clinic is offered providing there is an opening on that day.

To register for a golf clinic, please call the Golf Shop at (845) 473-9838.
Private Lessons
Private Lesson - 45 mins
$60
Semi-Private Lessons


(2 People)

$40 per person
Private Junior Lessons - 30 mins
$30

Private and semi-private lessons are scheduled on Monday's, Thursday's, and Saturday's.

To schedule a lesson please call Rhett directly at (914) 204-7304.
Customized Golf Clinics for Women
Series of 3 (1) hour Lessons
4 Women per class
You customize your own clinic with 4 friends on 3 specific dates.
$95 per person
Includes one FREE round of golf
Classes will focus on the fundamentals of golf and your requests.
Basic Rules & Etiquette
Short Game
Full Swing
Putting
On Course Instruction
For more information, call Rhett (914) 204-7304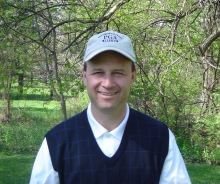 Rhett Myers has instructed many State, County & Club Champions. He approaches each lesson by assessing each individual's strengths and weaknesses while stressing the 5 basic fundamentals of golf. Evaluation critique is included for all lessons.
"Golf is like most things, the more effort you put into it, the better you become. Work on your game through practice & lessons and you will see improvement and enjoy this great game even more!"
*Best of Hudson Valley® and Hudson Valley Magazine® are registered trademarks.