Welcome to Vassar Golf Course
Vassar Golf Course is a nine hole public golf course situated on the beautiful Vassar College campus in Dutchess County, New York. Established in 1930, the course offers a scenic 2,500 yard layout with beautiful mature trees, character and charm. All players are welcome on a first come, first serve basis. Vassar is a very enjoyable walking course, however, golf carts are available. An average round of golf requires only two hours. Vassar welcomes golfers of all levels, including juniors, seniors and families. The course is a fair challenge for beginner to intermediate golfers.
Vassar Golf Course
PGA Golf Instruction
Golf Carts & Pull Carts
Rental Clubs
Golf Shop
Season Passes
Golf Leagues
Junior & Senior Rates
The 9 Hole Advantage
Play in 2 Hours or Less
Tee Times not Required
Easy Walking Course
Excellent Value
---
Golf Course Hours
Open 8:00AM to Dusk
7 Days a Week
No tee times, first come first serve.
---
Gift Certificates
Gift Certificates are available in the Golf Shop or by mail.
To receive a Gift Certificate by mail, please e-mail Rhett at rhett@vassargolfcourse.com or call (914)204-7304 with details.
Gift certificates can be used for rounds of golf, golf lessons, clinics or golf shop merchandise.
---
Small Group Golf Outings
With the beautiful and prestigious Vassar College Campus as a backdrop, Vassar Golf Course is the ideal setting for your next golf outing - fundraiser, tournament, corporate or social golf event.
We cater to small groups who want to focus their day on a Fun Day of Golf. All aspects of your day will be organized from start to finish: instructional clinic, golf , scoring and lunch. Customized to meet your needs. Details. Please call (914) 204-7304.
---
Professional Tips on How to Play the Course
Looking for some course tips? Watch our video ~ How to play the course, hole by hole with tips from PGA Golf Professional, Rhett Myers (video)
---
Recent Event Results
Club Championship
September 10, 2022
Club Champion - Jon Vincitore - 36
Runner-Up - Sean Wilk - 37
Low Net - Pete Gumbinger - 32
Senior Division
Senior Club Champion - Patti Kelly - 38
Runner-Up - John Burkowske - 41
Low Net - Rita Longo - 35
Super Senior Division
Super Senior Club Champion - Ray Ricci - 42*
Runner-Up - Gary Beck - 42*
1st Low Net - Shel Reynolds - 32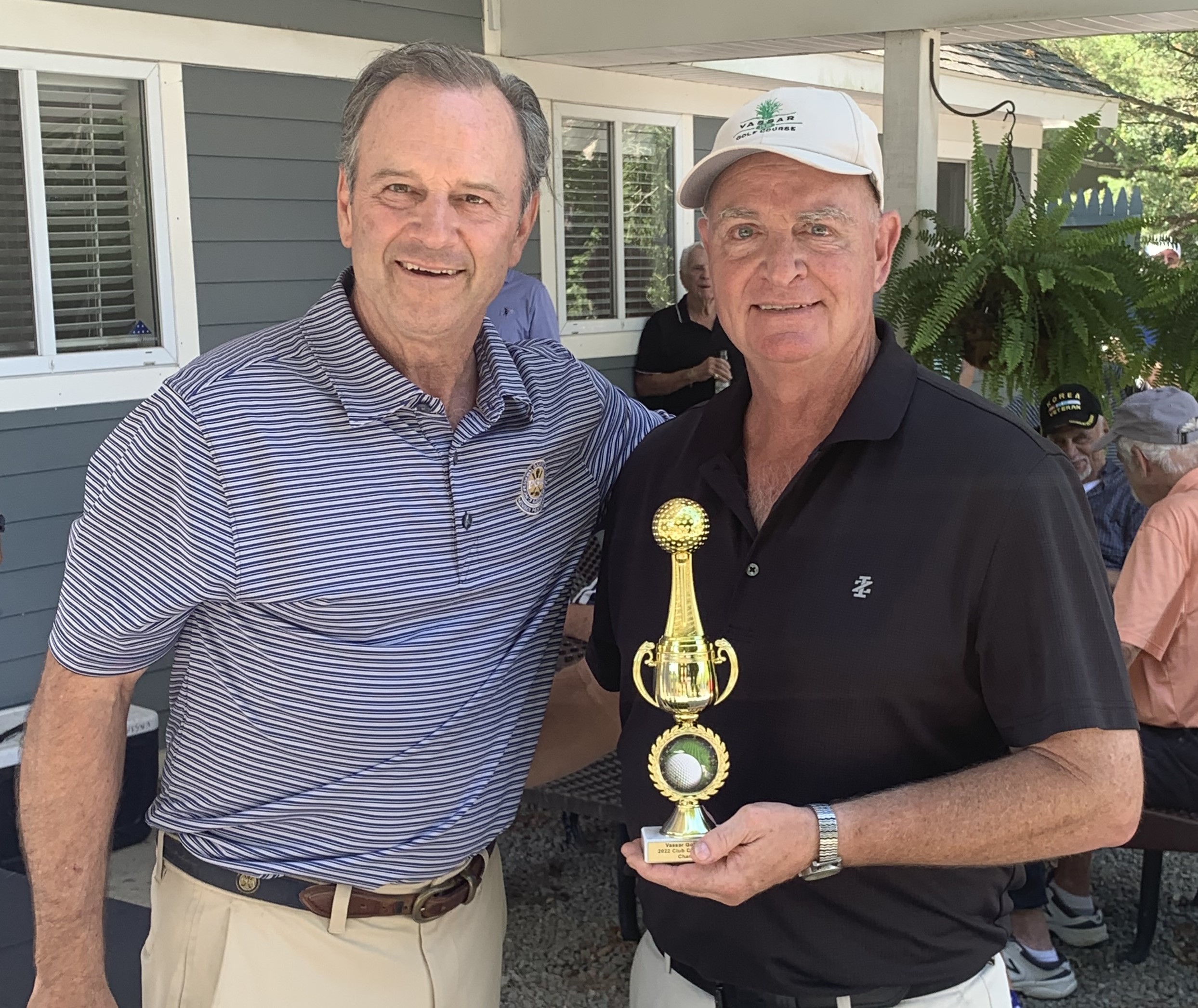 Jon & Rhett
2022 Results and Pictures and Past Results
---
Stay Connected
Join Our Email List
To be added to our e-mail list, please send an e-mail to rhett@vassargolfcourse.com.
Follow us on Facebook or Instagram